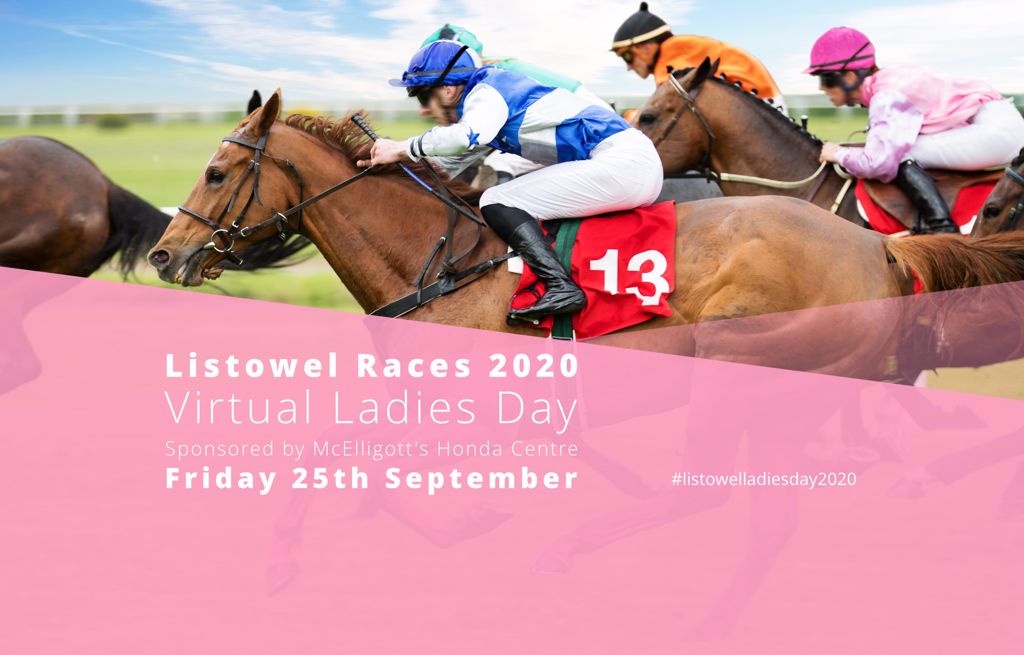 Listowel Races - Virtual Ladies Day Friday 25th September
The McElligott's Honda Ladies Day at the Listowel Harvest Racing Festival is always one of the fashion and social highlights of the year.
Although, due to COVID-19 restrictions, Ladies Day cannot take place on the racecourse this year, the Directors and Sponsors have organised a Virtual Ladies Day on Friday 25th September - where everyone, anywhere who loves their style, can join together on social media to celebrate all the fashion and fun of ladies day at Listowel Races. It is certainly worth dressing to impress!
There is a prize of €500 cash for the McElligott's Honda Best Dressed Lady, and a bespoke piece of jewellery from master jeweller Brian de Staic for the Most Contemporary New Season Autumn Look and a staycation for 'Best Hat' or Headpiece.
To enter the McElligott's Honda Virtual Ladies Day on Friday 25th September, all you have to do is:
Take (or get someone else to take) a photo or video (less than 15 seconds) of yourself all dressed up - as if you were heading to the McElligotts Honda Ladies Day at the Listowel Races.
Post your photo or video before 4pm on Friday 25th September to either your Instagram or Facebook page and importantly hashtag #listowelladiesday2020 and tag @listowelraces and you could be a winner alright at the virtual McElligotts Honda Ladies Day at Listowel Races.
Follow @listowelraces on their social media channels throughout the day for updates and the announcement of finalists at 5pm and overall winners at 7pm.
Our panel of judges, headed Orla Diffily, fashion stylist, RTE Today and model agency owner, will shortlist 5 finalists who will be announced on social media at 5pm and the overall winners in each category will be announced at 7pm.
Key timings:
Entries open 10am and close at 4pm on Friday 25th of September. You must post and hashtag your entry during this time.
Finalists announced at 5pm on @listowelraces Instagram and Facebook pages.
The overall McElligott's Honda Best Dressed Lady and winner of other categories will be announced at 7pm.
Please note, all finalists and overall winner need to be available for a virtual online interview in their race day outfit from 5pm.
Take a look at previous years Ladies Day
The team here at McElligott's Honda Centre wish everyone the best of luck!
News